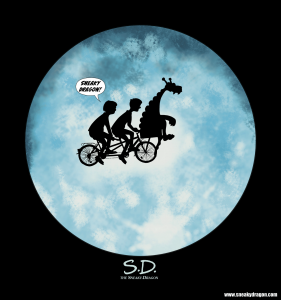 Buenos dias, Sneakers! A fun show this week as Ian pulls out his Superman quiz book and we find out exactly what Dave knows about Superman. (Answer? Nothing.) Also this week: Ian and Dave turn on their heart light; Dave was at the PNE this week so he and Ian discuss this long-time Vancouver tradition: horse shows, the Midway, cows, prize homes and prize cars that Dave is not sure they actually give away and lots more including bullying protesters and Game of Thrones for kids! It turns out Dave doesn't get sarcasm; he and Ian enjoyed Time-Life books of the occult for boyish reasons; Sid and Marty Krofft get their annual look in; and Dave ends the show with a rant.
Remember: Ian and Dave would like to do a question and answer show for our 150th episode so get those questions in, folks. As always, you can write us here on the website, ask a question on our Facebook page, tweet us at @Sneaky_Dragon or write to us at sneakyd@sneakydragon.com.
And, hey, if you actually know someone who won a car at the Fair, let us know. Dave is very curious.
Thanks for listening.
Podcast: Play in new window | Download
{ 2 comments }